Chef Brandon Johns created Grange Kitchen & Bar with the idea that the freshest ingredients, grown sustainably and sourced from people we know are the basis for the best food.
At Grange, our commitment to local and sustainable sources reflects both our commitment to the community and our commitment to bringing the best of the farm's bounty to the table when it's fresh and at the peak of its flavor.
Join us for seasonal menus inspired by the fresh flavors of local farms and farmers' markets.
Grange Buzz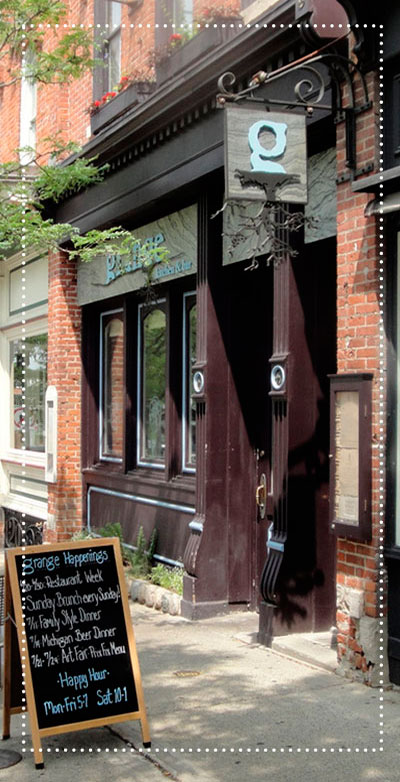 Dinner with the Brinery
Spend an evening eating well and filling the sails of your gut bacteria with fresh winds! Grange Kitchen and Bar is hosting a Brinery dinner, complete with a novel menu and lively spirits, and we would love to have you with us.
Farmers' Market Vegetable Tasting Menu
Wednesdays through the market season.
Join Grange Wednesday nights for a special vegetable tasting menu showcasing vegetables, fruits and herbs from Wednesday's Farmers' Market. Chef Brandon will create a five course series of dishes that celebrates the fresh vegetables of the season. Five courses, $45.
Grange CSC (Community Supported Cocktails) Program
The Grange CSC is back.
With Grange's Community Supported Cocktails Program (CSC), instead of fresh produce, Grange CSC members can enjoy seasonal craft cocktails featuring the local ingredients purchased as a part of their share. As a benefit of their share, CSC members can enjoy these artisan beverages at a reduced price.
Gift Certificates
Give the gift of locally sourced, farm to table dining with a Grange gift card, now available online. Fill out the resulting form and we'll have your gift card in the mail the next day.
A nice little write-up about our tasting menu…(read more)
And Always
Open for Sunday Brunch. Join us for brunch 10am to 3pm for some of the best (and most local) brunch around town.
Not happy? Well come to Grange from 5pm to 7pm Monday through Friday for $2 off Grange artisinal cocktails, wine pours and the bar menu during our happy hour. And we're doing the same thing from 10pm to close on Saturday.
Follow everything going on at Grange including special dinners, tastings and changes in our seasonal menu on our Facebook page.
Menu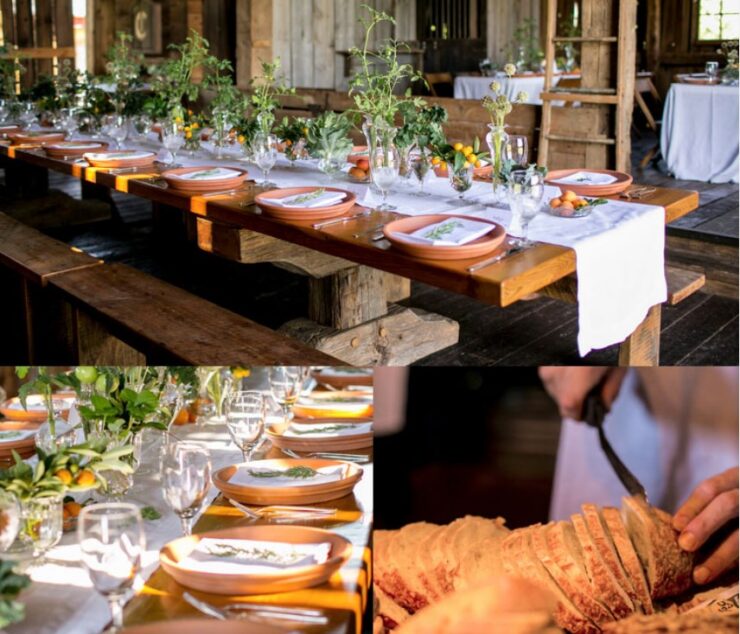 The Grange menu selections change daily in order to utilize the freshest of local and seasonal ingredients. The menu shown here may not reflect accurately the dishes that are available today. Please feel free to call if you have questions about any of the food options that will be offered today.
Salted and Smoked
Charcuterie chef's choice of 4 items, house pickles, mustard, toast
Chorizo grilled house made chorizo, dates, blue cheese
Duck and chicken liver mousse Old Brick Farms duck and chicken liver mousse, concord grape gelee, toast points
Duck fat fries smoked salt, garlic mayo, grange ketchup
Scotch duck egg Soft-boiled duck egg, ginger sage sausage, mustard mayo
Vegetables
Roasted carrot soup Tantre farm carrots, house-made crème fraiche, pickled Green Things ginger
Garlic greens local greens braised with Steinhauser garlic
Roasted pumpkin roasted pumpkin, house-made whole wheat cavatelli pasta, ricotta, balsamic reduction
Roasted delicata squash Tantre farm delicata squash, toasted seeds, rosemary-maple yogurt
Green salad local lettuces, shaved root vegetables, Four Corner's Creamery goat cheese, red wine vinaigrette
Plates
Butcher's cut hand cut steak of the day, served with roasted mushrooms, potatoes, red wine jus
Grilled Michigan lake trout roasted Goetz cauliflower, cabbage, potatoes, white balsamic, caraway
Pan seared duck breast Culver duck breast, roasted fennel, greens, pickled pears
Roasted mushrooms and sage fazoletti roasted Detroit Mushroom Co. mushrooms, house-made sage pasta "handkerchiefs," parmigiano add MI shrimp 
Miso glazed Lake Superior Walleye roasted Goetz farm broccoli, MI whole oats, miso glaze, fermented corn
Pan-seared chicken breast Gunthorp Farm chicken, Goetz farm sweet potato puree, fried Brussels sprouts, apple cider reduction
Grilled pork loin Black Oak Farms pork loin, Tantre greens, pickled Detroit Mushroom Co oyster mushrooms, MI yellow corn grits
Share, Served Family-Style
Whole roasted heritage chicken – serves 2 Old Brick Farm heritage chicken, sausage and cornbread dressing, roasted broccoli, natural jus
Private Events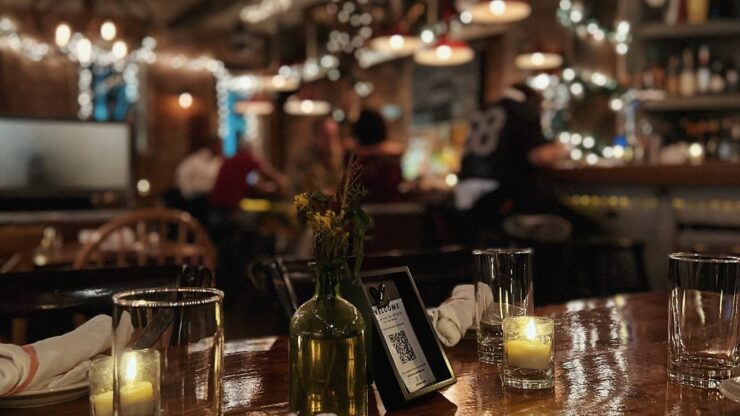 Looking to hold your private event at Grange? Our private dining space is perfect for cocktail parties, private dinners, business presentations and special events.
Grange's private dining space accommodates up to 40 guests. Semi-private dining spaces are ideal for parties of up to 14 guests.
For your event, Chef Brandon and his team will work closely with you to select a menu customized to fit your event. For truly special events, guests may select one of Chef Johns' special multi-course tasting menus.